Our latest interest has been the Myers-Briggs test.
Actually, the fake Myers-Briggs test since... we aren't willing to pay $30.00 just to have a computer define us with four letters.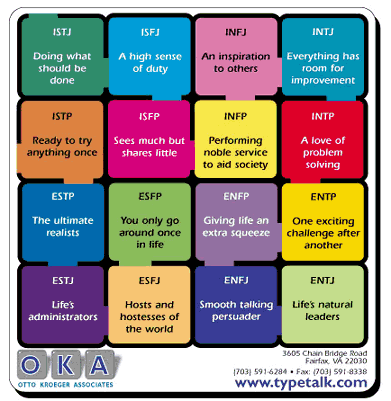 [/caption]
I'm sure pretty much everyone I know has already taken it. I'd taken it before, too, but I couldn't remember my letters. It's kind of funny to read an in depth description of each personality type because it's a little uncanny.
Anyway, we took our free test here:
http://similarminds.com/jung.html
There are probably better ones, but this one worked pretty well.
For a more in depth description of each type, we went here:
http://www.personalitypage.com/portraits.html
In case you've never taken it, there are four categories: Introverted/Extroverted, iNtuitive/Sensing, Thinking/Feeling, Judgding/Perceiving. That breaks down to I/E, N/S, T/F, J/P.
In every category, you're rated higher in one or the other based on how you answer the questions and that gives you your letters.
Ben is an ISTJ: Introverted, Sensing, Thinking, Judging. And, apparently, according to our picture there, is "doing what should be done". He'd be pleased to hear that.. let's NOT tell him. ;)
I'm an ISFP: Introverted (we're an outgoing pair, aren't we..), Sensing, Feeling, Perceiving. Yes, apparently I see a lot of stuff, but I never share. I don't know what that means. Except that maybe I don't like to share... but I don't think that's true. Until Ben tries to eat my chocolate.
Well.
Anyway, we think everybody should take the test and post their letters in the comments because we want to know them! If you know them without taking the test, that's fine, but tell us your letters! We're interested. We've even been taking the tests FOR some of you and we've got you all figured out... That's right.
You can read our "portraits" here:
Ben: ISTJ
Catie: ISFP
Tell us your letters! Do you realize how long we've been here? We probably don't even remember what any of you are LIKE.
We need the reminder so we'll recognize you when we get home. Otherwise, we'll see you at the airport and be like, "You LOOK like my mom, but my mom is Feeling, not Thinking and she's MUCH more Extroverted..."
And you wouldn't want that.
- catie